VISIT US
Step into LIM College's campus in the heart of New York City to experience what life at LIM College holds for you. You'll learn what it's like to be a student through a campus tour, information sessions and a chance to explore Manhattan. There's no better place to learn the business of fashion.
How to Get to Our Buildings
Getting around Manhattan is easy with a little practice! Here, an LIM student shares her commuting tips for getting to class in LIM's midtown buildings.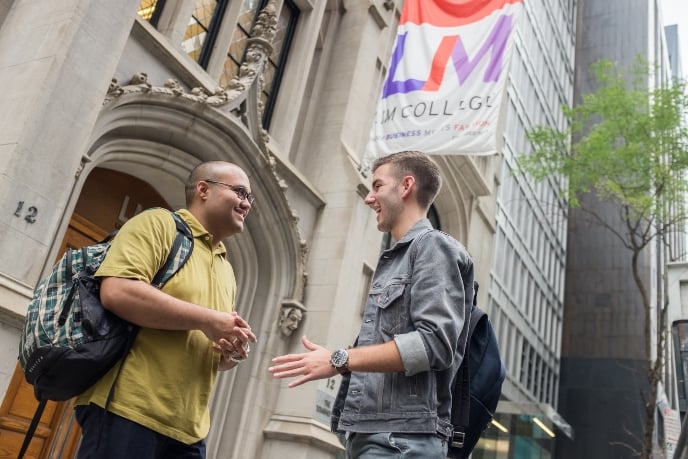 Why LIM Students Love Living in NYC
From celebrity sightings to great food and attractions, learn why LIM students love "being a college kid" in the city that never sleeps!
All College events occurring in March or April will either be held virtually, postponed or canceled. This includes admissions events for prospective and incoming students—such as Open Houses, Transfer Services Days, Accepted Students Day, Admissions Information Sessions, and campus and residence hall tours. We will continue to keep you updated about the status of events scheduled to take place after April 30, as well as virtual visit options.
MEET THE
LIM COLLEGE
COMMUNITY
Open House programs give you the opportunity to tour the LIM College campus and residence hall; and meet with faculty, staff and current students. Attend breakout sessions on special topics to learn more about what the campus and LIM College has to offer. Because of space limitation, we suggest you reserve your spot several weeks in advance.
Information sessions provide you with an opportunity to receive more insights about LIM College and take a brief tour of our campus, including an optional residence hall tour. The Office of Admissions hosts information sessions on most Tuesdays, Wednesdays and Fridays throughout the year. Due to space limitations, RSVPs are encouraged several weeks in advance of the date you plan to visit.
LIM College offers exclusive programs for students transferring from other colleges and universities. Transfer Services Day gives students the opportunity to join an information session, sit down one-on-one with a counselor to discuss credit transferability, obtain financial aid information and receive and instant decision on admission. Students can also schedule an appointment on Transfer Tuesdays to discuss credit transferability and receive and instant decision on admission. 
Looking for an opportunity to meet with an Admissions Counselor and possibly receive an instant admissions decision? Submit your application before a First Year Friday appointment, and bring your materials to know if you'll be joining LIM College as a freshman next year! You'll also receive a tour of our historic Townhouse academic building, and have the chance to chat with current LIM students.
Residence Hall tours are offered after information sessions and most on-campus events. To set up an appointment, please call the Office of Admissions at 212-310-0639. 
We recommend you use New York City's extensive and convenient public transportation system while visiting LIM College to avoid heavy traffic and expensive public parking. If you choose to travel by car, paid parking lots are available in the vicinity of LIM College.
LIM College has no affiliation with any parking lots, but below are resources to compare prices and find the best parking location for you:
Note: Always check these websites for coupons or restriction notices before you come into the city.
Public transit is the best way to get around New York City. The New York City Transit Authority operates subways and buses 24 hours a day, 365 days a year. The various methods of transit in the city are quite extensive, but don't be intimidated. There is always a bus driver, police officer or a local New Yorker available to help you if you have any questions.
LIM College is located in the heart of Midtown Manhattan, which is one of the most fashionable and exciting locations in the world. With New York City as your campus, you're always just steps from a landmark or attraction. You can always learn inside and outside of the classroom. LIM College's academic buildings and residence hall are surrounded by the world's most famous companies and retail stores.
Are you unable to make a trip to campus for an in-person tour? We offer a virtual tour of LIM College to include views of the Office of Admissions and classrooms, plus a stroll down Fifth Avenue. The virtual tour also shows you nearby subways, our residence hall and fitness center to give you an idea of what life is like in New York City.
During these interactive presentations, you will learn about all aspects of LIM College from programs offered to living on campus. You have the opportunity to chat with a live counselor privately or publicly. At the end of each webinar and online chat, the presenting Admissions Counselor will give you their contact information so that you may feel free to contact them with any further questions.
Interested in meeting LIM College close to home? View the college fair(s) an admissions representative will be attending in your area.