Important Dates & Deadlines
| | |
| --- | --- |
| Event | Date |
| Mentor Info Session | TBD |
| Application Deadline | March 2, 2020 by 2pm |
| Group Process | March 27, 2020 - 10a-2p |
| Interviews | TBD - By appointment |
| Summer Conference Assistant Training | TBD |
| Orientation Leader Training | TBD |
| Resident Advisor Training | TBD |
| International Student Ambassadors Training | TBD |
| Mentor Training (Ropes Course) | TBD |
| First Year Experience Training | TBD |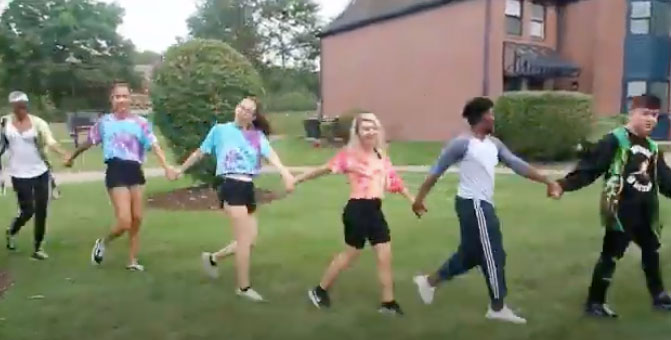 LIM College Mentor Program
By becoming a mentor, you create a legacy that has a lasting impact on your mentees, the LIM College community and YOU.
As a Mentor, you will develop your own career possibilities, help other students achieve their potential, and assist in making LIM College reach new heights overall.
In every field the most influential and respected leaders are those who know how to guide and assist others—inspiring leaders who are role-models as well as successes. At LIM College we take special care to nurture such leaders, and becoming a Mentor is a step forward on that path.
If you have considered becoming a Mentor in the past, but not gotten around to it, now is the time. An increasing number of students each semester come to us to launch their industry and academic careers at LIM College. Mentoring them will give you back as much as you give, in leadership, teaching, and collaborative skills. Finally, mentoring is also a great way to build satisfying relationships and have fun.
In support of LIM College's Mission statement, mentors strive TO:
Embrace the College's CORE Values:

Academic Excellence: challenge all to realize their full intellectual and professional potential
Collegiality: embrace trust, diversity and respect
Ethical Behavior: act with honesty, integrity and accountability
Student Focus: place students at the center of everything that we do

Create an environment that is inclusive of diverse backgrounds and perspectives
Mentors at LIM College are:
Positive role models
Groups leads and facilitators
Departmental liaisons
Peer Counselors
Guides/Resources
We are looking for students who are:
Approachable
Effective communicators
Responsible
Enthusiastic about the LIM College Community
In good academic and disciplinary standing
Enrolled as a full-time students
The following Mentor opportunities are available:
This choice position in the Office of Career and Internship Services helps mentors develop transferable skills, serve the LIM College community, and spread awareness of CARE and its services. Career Peers handle an array of tasks in this dynamic and diversified environment and also serve as the bridge between CARE Pro Staff and the student body. Overall, Career Peers will gain valuable knowledge and skills which will prepare them to become leaders on campus as well as in their respective fields. Open to Undergraduate and Graduate Students*
Diversity and Inclusion Advocate (DIA)
Under supervision of the Assistant Dean of Student Affairs, the Diversity and Inclusion Advocate (DIA) facilitates and coordinates the development and coordination programming that supports diversity and inclusion initiatives through community building activities, leadership development, and identity development. The DIA will have administrative responsibilities with program planning and execution as well as designing posters and other diversity and inclusion educational campaigns. The DIA position will recruit student volunteers and oversee a Diversity Student Advocacy Council to assist in on campus initiatives.
First Year Experience (FYE) Student Mentor
FYE Student Mentors are an invaluable resource to freshman at LIM College. FYE student mentors will attend their assigned First Year Experience Seminar (FYES-100) class each week (approximately 12-13 weeks) and support students as they integrate into the LIM College Community. FYE Student Mentors will assist freshman by answering a wide range of questions about the College, provide appropriate advice, and meet with students individually to discuss the process of adjustment to college. FYE Student Mentors should be available to mentored students in-person, by email, or text message throughout the freshman students' first year.
Housing Orientation Coordinator & Head Summer Conference Assistant (HSCA)
The Head SCA (HSCA) provides service and assistance to all summer housing residents at the Educational Housing Services (EHS) The New Yorker Residence Hall. The HSCA performs daily administrative tasks related to managing the halls and must be knowledgeable of and able to implement college policies. The HSCA will assist in the supervision of the Summer Conference Assistants and manage training, development, and evaluation of the staff. The HSCA will also assist in the coordination of all check-ins and check-outs. The HSCA serves in a dual role that includes oversight by the Office of Student Life regarding all summer orientation activities including preparing linens, ensuring proper room turnover, managing assignments, and coordinating day to day activities for housing. The HSCA will be involved in all training for both Summer Conference Assistants and Orientation Leaders.
International Orientation Leader (iOL)
The International Orientation Leader (iOL) assists in meeting the needs of the graduate international students before and after classes start. The iOL will support graduate international students in their academic, personal, social and cultural transition from life in their home country to life on campus and within the surrounding community, ensuring a full and enriching educational experience at LIM College. We are seeking engaging, enthusiastic, and committed graduate international student who will work with new international graduate students in small groups and/or one-on-one to guide them through their transition at LIM College. The iOL will also help in supporting events, with small projects and with leading discussions with incoming international graduate students.
A crucial role of an Orientation Leader is to effectively communicate critical information about LIM College and NYC to incoming students and their families. The OL staff will be trained to answer questions about academic adjustment, student services and campus life. Candidates need to possess a high energy level, a positive attitude and strong commitment to the orientation program and the LIM College Community. Please note that the OL position is a year-long commitment with special emphasis on the Orientation programs in August and January as well as Welcome Week, the Student Leadership Conference, and the Mentor Retreat. There are also opportunities for participation in additional activities throughout the year.
Peer Advising Leader (PAL)
A PAL (Peer Advising Leader) is an advanced leadership position within the Office of Academic Advising, a department within the LIM College Department of Student Success. PAL's promote the office's mission and purpose, communicate the services available within the Academic Advising Office, and serve as an academic resource and mentor for new and current LIM College students. PAL's are an integral part of the Advising Team, and often serve as the first point of contact for the Office.
RAs are full-time students at LIM College who act as direct liaisons between the administration and the students who reside in the residence hall. They are trained staff members selected for their high level4 of maturity, social skills, enthusiasm, and desire to serve the LIM College Community. RAs establish one-on-one relationships with each member of their community and maintain an open door policy that encourages dialogue with students as they transition to college life. They also serve as a neighborhood resource, mentor, mediator, peer leader, policy enforcer and most importantly friend. RAs provide these services through a series of community-building and educational development programs. RAs hold office hours daily from 7:00 pm – 11:00 pm in addition to being on call from 11:00 pm – 9:00 am (Sunday through Thursday) and 11:00pm – 7 pm (Friday through Saturday and when the college is closed) for emergency situations on rotation.
Sophomore Year Experience Coordinator (SYE)
The SYE Coordinator aims to empower sophomores to excel through providing opportunities to enhance academic and professional success, sense of belonging, engagement with the LIM community and leadership through extra and co-curricular programming. The SYE Coordinator will work a maximum of 10 hrs. per week to create and execute events and provide opportunities (both on and off campus) for second semester freshman and sophomore students at LIM College.
Summer Conference Assistant (SCA)
SCAs provide service and assistance to all summer housing residents at the 1760 Residence Hall. It is essential that SCAs perform daily administrative tasks related to managing the halls and must be knowledgeable of and able to implement college policies. SCAs serve as a resource with regards to the campus and local community inquires. SCA are required to serve 10 office hours per week which is included in their 20-25 hours work commitment. SCAs hold duty hours daily from 7:00 pm – 11:00 pm in addition to being on call from 11:00 pm – 9:00 am (Sunday through Thursday) and 11:00pm – 7 pm (Friday through Saturday and when the college is closed) for emergency situations on rotation.
Student Activities Coordinator (SAC)
The Student Activities Coordinator will work closely with the Office of Student Life to support WOW and evening activities including the Weeks of Welcome programming and the Campus Life Fair. The SAC will work with the Office of Student Life to create a proposal for activities within a set budget. Once activities are confirmed, the SAC will book venues, rent equipment, select catering, and ensure supplies are stocked and replenished after every activity. The SAC will create and monitor signup and attendance sheets for activities and develop assessment tools to address the impact and effectiveness of activities.
Transfer Student Organization Coordinator (TSO)
The TSO facilitates successful transitions for incoming transfer students. The TSO connects transfer students to resources, helps students engage in academic and social networks, and aid in the overall holistic growth of incoming transfer students. Incoming transfer students are paired with senior transfer students with similar majors and/or interests. Furthermore, the TSO will work a maximum of 10 hrs. per week to create and execute events and provide opportunities (both on and off campus) for all transfer students at LIM College.
The application process for 2020-2021 Mentors is now open.
Mentors are dedicated students who possess strong leadership, communication, and team building skills and who take great pride in LIM College! Being a mentor is a great way to become involved, build your resume, and make new friends in the process!
For more information, please email leadership@limcollege.edu