Exchange Student Resources
The Office of Study Abroad
The Office of Study Abroad welcomes students from LIM College's partner schools abroad to study in New York for a semester and experience everything LIM has to offer. The Office provides information and services to incoming exchange students throughout the application, acceptance, and pre-arrival process; it also supports exchange students throughout their time in New York and provides guidance regarding J-1 student status and immigration regulations.
Office of Study Abroad Information
Hours: Monday-Friday 9:00 am - 5:00 pm
Location: 545 Fifth Avenue, 7th Floor
New York, New York 10017-3620
Telephone: 646-218-7723
Email: studyabroad@limcollege.edu
If you would like to meet with the Study Abroad Coordinator, please contact the Office of Study Abroad (see contact information above) to schedule a one-on-one appointment to address your questions or concerns.
Remember, all incoming exchange students must check in with the Office of Study Abroad at LIM College at the time of the International Student Orientation. Participation in the International Student Orientation held prior to the beginning of the semester is mandatory. Details including the date, time, and location of the orientation will be provided to incoming exchange students.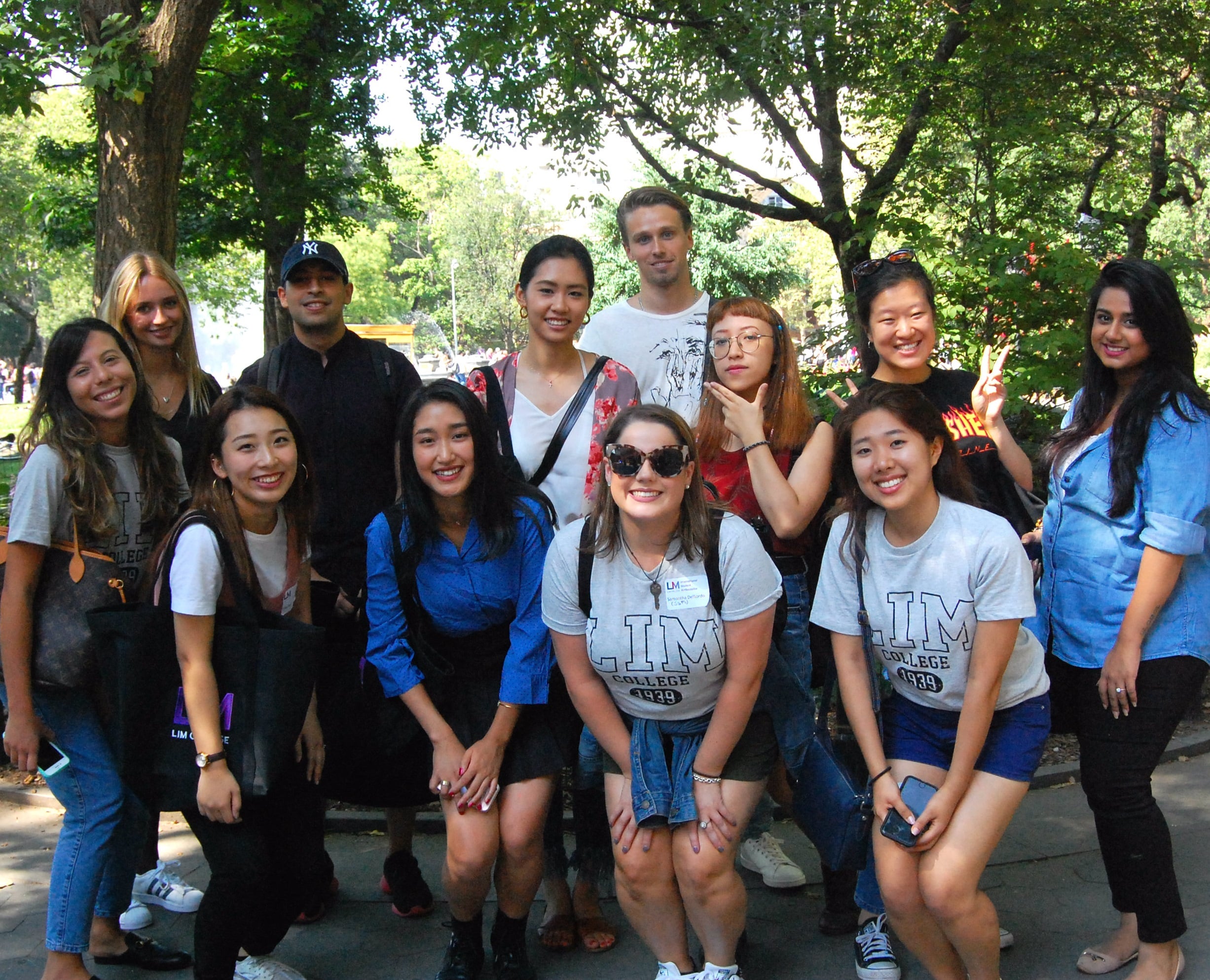 INTERNATIONAL STUDENT HANDBOOK
The International Student handbook provides helpful information about staying in status as an incoming exchange student, life at LIM College, and living in New York City.
HOW DO I APPLY TO BE AN EXCHANGE STUDENT AT LIM COLLEGE?
Check with your home university to confirm that there is an active student exchange agreement between your institution and LIM College.
Complete the application/nomination/placement process that your home institution has in place for students interested in participating in an exchange.
Once accepted to the program, your home institution will nominate you to study at LIM College.
Complete the LIM College Exchange Application and DS-2019 Application. Submit these completed applications and supporting documents to your home school advisor/coordinator to be submitted to the LIM College Study Abroad Coordinator on your behalf. More detailed information can be found on each of the application forms, but note that the supporting documents will include:

A clear, legible copy of the biographic page of your passport
A copy of your academic transcript/record from your home university
Proof of proficiency in English (for non-native English speakers only)
A letter of reference from an individual familiar with your academic work
Proof of financial means to cover your expenses for the duration of the term you plan to study at LIM College

The LIM College Study Abroad Coordinator will review your application and will reach out to you directly to share whether or not you have been accepted to the program.
WHAT STEPS DO ACCEPTED EXCHANGE STUDENTS NEED TO COMPLETE PRIOR TO ARRIVAL AT LIM COLLEGE?
The Study Abroad Coordinator will work with all accepted students to prepare for their semester in New York City. These steps will include:
Applying for the J-1 student visa
Registering for courses at the College
Applying for housing at the LIM College Residence Hall or finding accommodation for the semester independently
Acquiring health insurance that meets or exceeds the J-1 visa requirements
Submitting proof of required immunizations to the LIM College Office of Counseling and Accessibility Services
Further information will be provided to all accepted students directly.
IMPORTANT EXCHANGE STUDENT VISA INFORMATION
All students intending to study on exchange on a J-1 visa are encouraged to visit the following website to learn more about J-1 status:
For more information about the visa process, incoming exchange students are encouraged to visit the following sites:
J-1 Students
Exchange students without US citizenship study at LIM College under a J-1 student visa. While studying as part of the exchange program with the College's overseas partner schools, exchange students are required to follow the regulations that govern J-1 visa holders.
Full-Time Study Requirement
All incoming exchange students must maintain a full-time course load for the duration of their program. Students who wish to register for part-time study or who want to withdraw from a course, must receive approval from the Office of Study Abroad in order to avoid being out of status. 
Keeping Your Documents Valid
Federal law requires students carry their documents with them at all times. Below are the documents that a student must keep valid.
Form DS-2019: The DS-2019 indicates the institution at which a student is permitted to study, the student's program of study, and the dates of eligibility. Students must request a DS-2019 extension prior to the form's expiration date if necessary. Allowing the DS-2019 to expire before completion of the academic program is a violation of J-1 status.
Passport: A passport must be valid at all times. If a passport is lost or stolen, a report should be filed with the New York City Police Department (NYPD). This report may be needed in order to obtain a new passport. To renew or replace a passport, students must contact their country's embassy or consulate in the United States
J-1 (Student) Visa: The visa permits a student to apply for admission into the United States as a J-1 student, and it does not need to remain valid while a student is in the United States. Canadian citizens are not required to have a visa. If the visa expires while a student is in the United States, the next time he/she travels abroad a new J-1 visa must be obtained before returning to the United States. Visas can only be obtained outside of the United States at a United States consulate.
Form I-94 Arrival/Departure Record: The Form I-94 serves as proof that a student has entered the United States in lawful J-1 status. This is a digital document and can be retrieved here: https://i94.cbp.dhs.gov/I94/#/home.
Changes a J-1 Visa Holder Must Report to the Office of Study Abroad
LIM College is required by law to report and update certain information about students into SEVIS. The information that we are required to report includes:
Withdrawal from the College
Failure to register for classes
Failure in a course
The information on your DS-2019
Most recent residential address
Phone number
Student full-time or only registered part-time
Employment authorization information (if applicable)
Address Change
Any change of address must be reported to the Office of Study Abroad within ten (10) days of the change.
Name Change
The name shown on the DS-2019 form should match exactly the name listed in the student's passport. If a student changes any part of the legal name on his/her passport, this change must be reported to the Office of Study Abroad so that the DS-2019 can be updated.
Program Extension
If a student is unable to complete a course of study before the completion date noted on the DS-2019, he/she must notify the Office of Study Abroad and request an extended DS-2019 before the current DS-2019 expires. If a student plans to engage in Academic Training (AT), he or she must request an extension from the Office of Study Abroad no later than two weeks prior to the end of their current status.
Change of Funding
If there is a substantial change in the source or amount of funding, this change must be reported to the Office of Study Abroad to obtain a new DS-2019.
Changing Schools
Students must register full-time at the school listed on their DS-2019. If a student decides to transfer to another school, he/she must contact the Office of Study Abroad prior to completing his/her final semester at LIM College. This is an uncommon case for exchange students.
Change of Level
If a student will complete his or her current program of study and plans to continue at LIM College in another program (for example, change from a bachelor's degree program to a master's degree program), the Form DS-2019 must be updated. This is an uncommon case for exchange students.
Insurance Requirements for J-1 Students
J-1 students are required by federal law to have specific amounts of sickness and accident insurance for the duration of their program. Minimum coverage must provide medical benefits of at least US$100,000 per accident or illness; a deductible not to exceed US$500 per accident or illness; and cover expenses associated with the medical evacuation to the home country of at least US$50,000; and repatriation of one's remains US$25,000. Incoming exchange students will be required to show proof of health insurance coverage that meets these requirements.
Working in the United States: On-Campus Employment and Academic Training
J-1 visa holders, who receive written authorization from the LIM College's Responsible Officer (RO) or the Alternate Responsible Officer (ARO) of their exchange program and are maintaining status, may work part-time on campus while classes are in session. Students may not work on campus after completing their course of study.
J-1 status allows limited employment, such as Academic Training (AT), which is training related to the student's field of study. Students must request AT authorization from the Office of Study Abroad before starting their internship or job. The training may be paid or unpaid. The total training period may not exceed the amount of time spent enrolled in a full course of study. If a student is planning to engage in AT after the completion of his/her studies, he/she must notify the Office of Study Abroad before the end date of the program. If a J-1 student is paid while doing AT, he/she must apply for a social security number.
Traveling Outside the United States
At the port-of-entry after a temporary absence from the United States, incoming J-1 visa holders must present:
- A valid passport
- A valid J-1 visa
- A valid Form DS-2019, signed for re-entry by the RO/ARO
- A copy of your current course schedule (this can be printed from Sonis)
If the J-1 visa expires while a student is in the United States, the next time he/ she travels abroad or to his/her home country a new visa must be obtained in order to re-enter the United States.
Following the completion of a program, J-1 visa holders have a thirty day period, commonly referred to as the "Grace Period," which allows students to prepare to return to their home countries. Please note: Students cannot travel internationally and re-enter the United States in J-1 status during this grace period.
Information on Tax Filing
The Office of Study Abroad wants to ensure that you are aware, as an J-1 status student, you may be required to file a federal and state income tax form while you are in the U.S. LIM College is not able to provide guidance on tax filing; however, you can contact any tax professional or accountant within the U.S. for assistance. Additionally, many students have found success using https://sprintax.com or https://glaciertax.com/ to determine their filing needs. LIM College does not endorse any specific person or entity, but there are many resources that students can access, including, but not limited to, the websites above. 
FREQUENTLY ASKED QUESTIONS
I AM AN EXCHANGE STUDENT INTERESTED IN GETTING A JOB/INTERNSHIP. WHAT SHOULD I DO?
J-1 visa holders are eligible for off-campus work both during and after their course of study through Academic Training (AT). Please schedule an appointment with a Career Advisor IN the Office of Experiential Education & Career Management (EECM) and the Office of Study Abroad if you are interested in applying for AT. You must have a job offer prior to applying for AT.
Yes. J-1 visa holders are authorized to work on-campus. Please refer to page eight in the Working in the United States section of the International Student Handbook linked above for more information.
I LOST MY DS-2019. WHAT SHOULD I DO?
If your DS-2019 is lost, damaged, or stolen you must request a new DS-2019 from the Office of Study Abroad. Additionally, if your DS-2019 was stolen, you should also file a police report with the NYPD as soon as possible.
WHAT IF MY DS-2019 IS SET TO EXPIRE BEFORE MY PROGRAM END DATE?
You must schedule an appointment with the Office of Study Abroad in a timely manner to process an extension of your DS-2019 if it expires earlier than your anticipated completion date.
WHAT HAPPENS IF MY DS-2019 EXPIRES AND I HAVE NOT MET WITH THE OFFICE OF STUDY ABROAD TO PROCESS AN EXTENSION?
You are considered out of status if your DS-2019 expires. If your document has expired, immediately schedule an appointment to meet with the Office of Study Abroad.
WHAT HAPPENS IF MY J-1 VISA EXPIRES?
Your visa is the document that lets you enter the US; however, once you enter the country you are granted a "status," with its own rules and regulations about how long you are eligible to remain in-country legally. J-1 visa holders are able to enter the US up to 30 days before their academic program begins (in other words, the first day of the semester) and to stay in the US for up to 30 days after the last day of the semester. It does not matter if your visa will expire before you depart as long as you leave the US no later than 30 days past the last day of the semester.